The Penguin Book of Outer Space Exploration: NASA and the Incredible Story of Human Spaceflight (Paperback)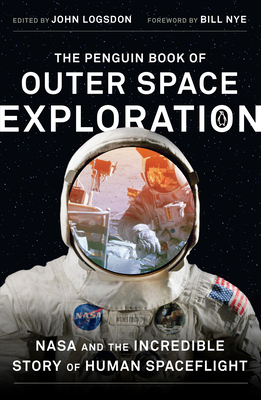 Description
---
The fascinating story of how NASA sent humans to explore outer space, told through a treasure trove of historical documents--publishing in celebration of NASA's 60th anniversary and with a foreword by Bill Nye

"An extremely useful and thought provoking documentary journey through the maze of space history. There is no wiser or more experienced navigator through the twists and turns and ups and downs than John Logsdon." -James Hansen, New York Times bestselling author of First Man, now a feature film starring Ryan Gosling and Claire Foy 

Among all the technological accomplishments of the last century, none has captured our imagination more deeply than the movement of humans into outer space. From Sputnik to SpaceX, the story of that journey--including the inside history of our voyages to the moon depicted in First Man--is told as never before in The Penguin Book of Outer Space Exploration.

Renowned space historian John Logsdon traces the greatest moments in human spaceflight by weaving together essential, fascinating documents from NASA's history with his expert narrative guidance. Beginning with rocket genius Wernher von Braun's vision for voyaging to Mars, and closing with Elon Musk's contemporary plan to get there, this volume traces major events like the founding of NASA, the first American astronauts in space, the Apollo moon landings, the Challenger disaster, the daring Hubble Telescope repairs, and more. In these pages, we such gems as Eisenhower's reactions to Sputnik, the original NASA astronaut application, John Glenn's reflections on zero gravity, Kennedy's directives to go to the moon, discussions on what Neil Armstrong's first famous first words should be, firsthands accounts of spaceflight, and so much more.
About the Author
---
John Logsdon is one of America's foremost experts on space policy and history. In 1987, he founded the Space Policy Institute at George Washington University, which he directed until 2008. He is a former member of the NASA Advisory Council and he served on the Columbia Accident Investigation Board in 2003. He is the editor of a seven-volume NASA history Exploring the Unknown, and his books include John F. Kennedy and the Race to the Moon and After Apollo? Richard Nixon and the American Space Program.

Bill Nye, best known as the host of PBS's Bill Nye the Science Guy, is the bestselling author of Everything All at Once and the host of Netflix's Bill Nye Save the World. He is also CEO of The Planetary Society, the world's largest non-profit space organization.
Praise For…
---
"Somebody needed to do it. And Professor John Logsdon is uniquely qualified for the task — to reveal the cultural, political, and scientific correspondence that birthed and sustains our era of space exploration.  The fits and starts of good ideas, the precarious flows of funding streams, the fickle sentiments of the public will — it's all there, right on down to transcripts of illuminating conversations held in the Oval Office between the President and key players in this epic adventure." -Neil deGrasse Tyson, New York Times bestselling author of Astrophysics for People in a Hurry

"I wish I'd had this terrific collection of critically important and richly insightful primary sources during my 31 years teaching university students about the history of space exploration. This new book provides an extremely useful and thought provoking documentary journey through the maze of space history. There is no wiser or more experienced navigator through the twists and turns and ups and downs than John Logsdon." -James Hansen, New York Times bestselling author of First Man: The Life of Neil A. Armstrong

"Brimming with fascinating behind-the-scenes details from the birth of the Space Age through the race to the Moon and beyond, this remarkable collection from one of America's preeminent space historians is a treasure." -Andrew Chaikin, author of A Man on the Moon

"As a NASA astronaut, I already knew a lot about the history of human space flight, but this book contained a wealth of new and exciting revelations. I felt like a fly on the wall listening as critical decisions were being made about how to go to the Moon and whether or not to build the Space Shuttle. And what a thrill to read John Glenn's own summary of his historic Mercury flight! There's something here for everyone interested in any aspect of human space flight." -Jeff Hoffman, NASA astronaut and MIT professor

"The story of space exploration is marked by a series of turning points, a series of policy decisions. These decisions are documented well enough, but the key documents would be very hard to find, if you didn't where to look. Dr. Logsdon does. He's the dean of space history. He is the world's foremost authority on which of the hundreds of thousands of documents hold the keys to knowing what and why significant things happened on Earth that influenced our presence in space." -Bill Nye, from the foreword

"[John Logsdon] clearly knows and is inspired by his material, and his enthusiasm comes through here…. An absorbing read for space exploration enthusiasts, from high schoolers to adults."—Library Journal
 
"A fascinating look at an extraordinary time….This wonderful little book should be in everyman's library."—The Albany Times-Union