Strangers Drowning: Impossible Idealism, Drastic Choices, and the Urge to Help (Paperback)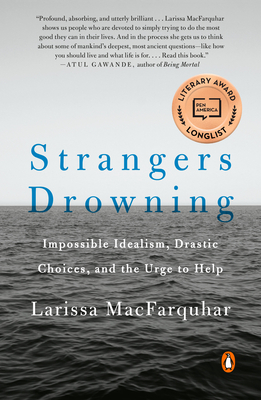 $18.00
ON HAND in at least ONE of our stores. Click through or call for up-to-the-minute availability.
Staff Reviews
---
"What does it mean to be a 'good person?' How much of being a good person is about you feeling good rather than good being done for others? In gorgeous prose, MacFarquhar thoughtfully answers these questions and then some. Read this, if only for the story of the family that adopted 22 children." - Vivian
— From
Vivian's Staff Picks
Description
---
What does it mean to devote yourself wholly to helping others? In Strangers Drowning, Larissa MacFarquhar seeks out people living lives of extreme ethical commitment and tells their deeply intimate stories; their stubborn integrity and their compromises; their bravery and their recklessness; their joys and defeats and wrenching dilemmas.

A couple adopts two children in distress. But then they think: If they can change two lives, why not four? Or ten? They adopt twenty. But how do they weigh the needs of unknown children in distress against the needs of the children they already have?
 
Another couple founds a leprosy colony in the wilderness in India, living in huts with no walls, knowing that their two small children may contract leprosy or be eaten by panthers. The children survive. But what if they hadn't? How would their parents' risk have been judged?

A woman believes that if she spends money on herself, rather than donate it to buy life-saving medicine, then she's responsible for the deaths that result. She lives on a fraction of her income, but wonders: when is compromise self-indulgence and when is it essential?

We honor such generosity and high ideals; but when we call people do-gooders there is skepticism in it, even hostility. Why do moral people make us uneasy? Between her stories, MacFarquhar threads a lively history of the literature, philosophy, social science, and self-help that have contributed to a deep suspicion of do-gooders in Western culture.

Through its sympathetic and beautifully vivid storytelling, Strangers Drowning confronts us with fundamental questions about what it means to be human. In a world of strangers drowning in need, how much should we help, and how much can we help? Is it right to care for strangers even at the expense of those we are closest to? Moving and provocative, Strangers Drowning challenges us to think about what we value most, and why.
About the Author
---
LARISSA MACFARQUHAR has been a staff writer at The New Yorker since 1998. Her subjects have included John Ashbery, Barack Obama, and Noam Chomsky, among many others. Previously she was a senior editor at Lingua Franca and an advisory editor at The Paris Review. MacFarquhar lives in New York.
Praise For…
---
"[Strangers Drowning] really made me think about morality, doing good, the lengths some humans are capable of in terms of altruism, and my own limitations. This is such a thoughtful, philosophical book that doesn't beat you over the head with a message because the message is: Here are people, these are their stories, make of it what you can, but don't dare mock or demonize them. We are human because we are different and have different capabilities."
—Sarah Weinman, Publishers Lunch Favorite Books of 2015 

"I can imagine Larissa MacFarquhar's 'Strangers Drowning' being as wonderful to read a hundred years from now as it was this year. The book reports on extreme 'do-gooders'—a favorite chapter looks at a couple who adopted 22 children—but its detail-oriented and nonjudgmental intelligence makes it at once morally complex and mythic, modern and timeless."— Rivka Galchen, The New York Times Book Review   

"Fascinating…The keys to the book's success are MacFarquhar's exhaustive journalistic approach and her clear, concise writing…Strangers Drowning is a brilliant jumping-off point to explore where each of us stands morally."—Chicago Tribune  

"MacFarquhar describes [the altruists'] motivations in elegant, empathetic terms…The stories resound with the universality of fables, events unfold at their own pace, and the overall tone of Strangers Drowning, with its panoramic view of actions and their consequences, seems to draw from the texts of psychology, philosophy, and religion in equal measure, evoking the case study, the thought experiment, and the parable."—Bookforum 

"Engaging…MacFarquhar…writes full and nuanced profiles, often by letting her subjects speak for themselves. She doesn't cast judgment on their ideals or their struggles to live up to them."
—Boston Globe

"MacFarquhar…tackles these questions with great intelligence and empathy…Thanks to MacFarquhar's curiosity and insight, and her embrace of complexity and ambiguity in storytelling, these portraits don't read at all like a secular version of 'Lives of the Saints'…[They have a] richness and tenderness…with all their telling details, unexpected turns and wonderfully novelistic observations."—Héctor Tobar, The New York Times Book Review

"MacFarquhar's argument builds quietly, shown rather than told. The bibliography attests to the fact that she has immersed herself in the relevant literature but her reading is so subterranean that you hardly notice. Strangers Drowning is a book written in a deceptively simple and clear voice about people, about how morality lodges itself in a person not as an abstract idea, or even a value, but as a direction for life…MacFarquhar forgoes the knowing detachment of the interviewer and stays close to her subjects, narrating their lives in her own voice but in what seems to be as faithful a mode as possible…Its ultimate effect is impressive and, one senses, a matter of principle. To allow the do-gooders to explain themselves on their own terms is to give them what society has never quite managed — the benefit of the doubt."—Financial Times
 
"One part modern-day Lives of the Saints, one part confirmation that this is no age for saints…Brilliant."—Laura Miller, Slate

"MacFarquhar's narrative alternates beautifully between profiles of individual do-gooders and this history of ideas that undermine their work. She returns us to the age-old questions about how to live, not by thinking in philosophical abstractions or hypothetical scenarios but through the lived experience of real people—their psychology, influences, relationships, triumphs, and shortcomings: the messy place where ethics actually lives."—The New Republic
 
"Ms. MacFarquhar…has a vivid writing style, and her perspective is unfailingly compassionate…Her subjects emerge as fully human despite personal eccentricities, selfish tendencies and nonstandard ideas about how to live a moral life."—Wall Street Journal


"Elegant, engaging, empathetic, and profoundly humane… Strangers Drowning is full of insights, inspiring and unsettling."—Psychology Today
  
"Superb…Ms. MacFarquhar's book…both streamlines and complicates the issues surrounding deep ethical scruples. She opens moral trapdoors you didn't know were there. More interestingly, she opens ones you suspect she didn't know were there, either. This writer does so many things well in 'Strangers Drowning' that it's hard to know where to begin…[MacFarquhar's profiles] are as taut and evocative as parables…[and] don't swamp the inquisitive tone of her broader intellectual narrative…The author's tone throughout 'Strangers Drowning' is that of a serious and wide-awake novelist. You sense a great deal of sifting below the surface of Ms. MacFarquhar's sentences, a reserve of power and intellect drawn upon at will. If her book does not provoke and unsettle you, you may not have a pulse."—Dwight Garner, The New York Times


"Thought-provoking…Such ethical urgency, with its aura of perfectionist virtue and saintly sanctimony, stirs ambivalence in most of us. If MacFarquhar thought she might overcome it, she's too honest to pretend she did. These do-gooders aren't moral models. But her discomfiting portraits deliver a humanizing surprise: Few of these altruistic souls nurse any illusion that they are exemplars."—The Atlantic 

"In a series of sensitive case studies, acclaimed journalist MacFarquhar examines lives of the full-time do-gooders who give it their all and then some…MacFarquhar's book is a careful meditation on what it means to fully commit to moral living—and whether the all-out commitments of this kind are, in the grand scheme of things, worth it."—Los Angeles Magazine

"Gripping…The aim of the book is neither to urge readers to change their lives nor to suggest that do-gooders are deluded. Instead, MacFarquhar draws attention to a fact of life that we often prefer to sweep under the psychological rug: Sometimes we prioritize our moral duty to others, and sometimes we prioritize ourselves. Everyone draws that jagged line somewhere."—Pacific Standard  

"Thoughtful and wide-ranging…[MacFarquhar] lucidly illustrates both the benefits and shortcomings of this ethical position by focusing on the lives of several do-gooders…MacFarquhar offers readers plenty of food for thought in understand­ing the motivations and compul­sions of those who sacrifice every­thing in pursuit of a noble cause."—BookPage  


"Fascinating and terrifying portraits of saints and ministers of grace."
—Kirkus
 
"Gripping…A scrupulous study of people selflessly devoted to helping others…Engrossing and thought provoking."
—Publishers  Weekly
 
 "MacFarquhar's book--daringly conceived, brilliantly executed--may change not just how you see the world, but how you live in it."
- Katherine Boo, Pulitzer Prize-winning journalist and author of Behind the Beautiful Forevers
 
 "In this inspiring yet deeply unsettling book, we are confronted with goodness at its most extreme. These arresting anecdotes from the shadowland between altruism and masochism are told in glowing, evocative prose and with polemical urgency. Few books throw one's personal moral universe into question, but this one does, and it does so powerfully and monumentally and with a near infinity of nuance and compassion."
- Andrew Solomon, New York Times bestselling author of The Noonday Demon and Far From the Tree
 
"With the inquisitive mind of a philosopher, the observant eye of a reporter, and the ability to write like the finest novelist, Larissa MacFarquhar has created an extraordinary work of nonfiction. Strangers Drowning helps us not only to understand what it means to be good but also human. A profound and deeply original book, Strangers Drowning will hold you in its grip and not let you go."
- David Grann, author of The Devil and Sherlock Holmes and The Lost City of Z
 
 "Larissa MacFarquhar has composed a compelling, lyrical saga of the saintly types that inspire both awe and puzzlement. These fascinating stories and Larissa MacFarquhar's own wise, funny meditations force you to inquire into your own sense of charity (or lack thereof). Easily the best book on both prescriptive and applied ethics I've read in a decade – mandatory reading for the examined life."
- Mary Karr, author of Lit and The Liars' Club
 
 
 "Larissa MacFarquhar is a beautiful writer, and Strangers Drowning is a beautiful, unique book, full of astonishing and sometimes wild tales of extraordinary altruism. MacFarquhar avoids sentimentality or simple lessons. She shows; she doesn't tell. Prepare for prose that's often like poetry – and for some remarkable portraits of the human spirit."
- Cass R. Sunstein, Robert Walmsley University Professor, Harvard University, and coauthor of Nudge