Double Fudge (Paperback)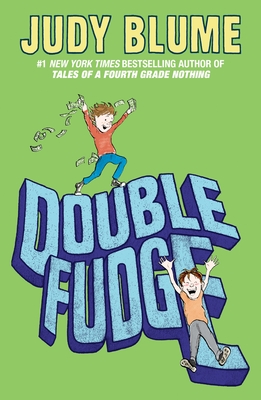 $7.99
ON HAND in at least ONE of our stores. Click through or call for up-to-the-minute availability.
Description
---
Part of the classic Fudge series from Judy Blume, bestselling author of Tales of a Fourth Grade Nothing!

Fudge is obsessed with money. He's making his own "Fudge Bucks" and has plans to buy the entire world. But life gets really crazy when Fudge and his older brother, Peter, run into their long-lost relatives, the Howie Hatchers. Now they have to deal with annoying twin cousins and a weird younger cousin, coincidentally named Farley Drexel Hatcher—just like Fudge! Their names aren't the only similarity, and before long, mini-Fudge is causing just as much trouble as Fudge always has!

"As a kid, Judy Blume was my favorite author, and Tales of a Fourth Grade Nothing was my favorite book."—Jeff Kinney, author of the bestselling Wimpy Kid series

Love Fudge, Peter, and Sheila? Read all the books featuring your favorite characters:
Tales of a Fourth Grade Nothing
Otherwise Known as Sheila the Great
Superfudge
Fudge-a-Mania
About the Author
---
JUDY BLUME spent her childhood in Elizabeth, New Jersey, making up stories inside her head. She spent her adult years in many places, doing the same thing, only now she writes her stories down on paper. Her numerous books have won many awards, including the National Book Foundation's Medal for Distinguished Contribution to American Letters.
 
Tales of a Fourth Grade Nothing is the first in a five-book series about Peter, Fudge, and Sheila.
Judy lives with her husband in Key West and New York City. Double Fudge was written at the request of her grandson, Elliot.You can visit her at judyblume.com.



Praise For…
---
Praise for Judy Blume and the Fudge books:

"Each [Fudge book] is packed with wacky earthy disasters that are her trademark and that children love to read about . . . Judy Blume has a knack for knowing what children think about and an honest, highly amusing way of writing about it." —The New York Times
 
"It's a pleasure to watch a talented author like Judy Blume consistently create books that reflect a
remarkable ability for combining humor with perceptive insight into a child's world." —Publishers Weekly
 
"Blume has her eye on the fine details of life, whether funny or frustrating." —Booklist
 
"For anyone who has ever been 'burdened' by a pesky younger brother, there's fast and funny
reading in this story." —Children's Digest on Tales of a Fourth Grade Nothing
 
"As usual, Blume's humor and pitch-perfect ear for sibling rivalry and family dynamics will have readers giggling with recognition. Newcomers and Fudge fans alike will savor this installment in the well-loved series." —Booklist on Double Fudge
 
 "Fudge-a-Mania infects kids with giggles." —BookPage on Fudge-a-Mania