The Mahé Circle (Paperback)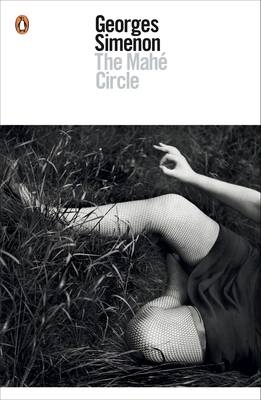 Description
---
"One of the greatest writers of the twentieth century . . . Simenon was unequaled at making us look inside, though the ability was masked by his brilliance at absorbing us obsessively in his stories." —The Guardian

The first-ever English publication of Georges Simenon's compelling novel about summer escape and elusive obsessions

"The island itself. Its throbbing heat as if in a belljar under the sun, the scorpion in his son's bed, the deafening sound of cicadas."

During his first holiday on the island of Porquerolles, Dr. Mahé caught a glimpse of something irresistible. As the memory continues to haunt him, he falls prey to a delusion that may offer an escape from his conventional existence—or may destroy him. Taut, insightful, and impossible to put down, this is the first English translation of The Mahé Circle, Simenon's dark, malevolent depiction of an ordinary man trapped in mundanity and consumed by obsession.
About the Author
---
Georges Simenon was born in Liège, Belgium, in 1903. Best known in Britain as the author of the Maigret books, his prolific output of over 400 novels and short stories has made him a household name in continental Europe. He died in 1989 in Lausanne, Switzerland, where he had lived for the latter part of his life.

Sian Reynolds was born in Cardiff, and taught at both Sussex University and Edinburgh University before serving as Chair of French at Stirling University from 1999-2004. She has translated numerous books from the French, both fiction and non-fiction, including works by crime writer Fred Vargas.
Praise For…
---
Praise for Georges Simenon:

"One of the greatest writers of the twentieth century . . . Simenon was unequaled at making us look inside, though the ability was masked by his brilliance at absorbing us obsessively in his stories." —The Guardian

"These Maigret books are as timeless as Paris itself." —The Washington Post

"Maigret ranks with Holmes and Poirot in the pantheon of fictional detective immortals." —People

"I love reading Simenon. He makes me think of Chekhov." —William Faulkner

"The greatest of all, the most genuine novelist we have had in literature." —André Gide

"A supreme writer . . . Unforgettable vividness." —The Independent (London)

"Superb . . . The most addictive of writers . . . A unique teller of tales." —The Observer (London)

"Compelling, remorseless, brilliant." —John Gray

"A truly wonderful writer . . . Marvelously readable—lucid, simple, absolutely in tune with the world he creates." —Muriel Spark

"A novelist who entered his fictional world as if he were a part of it."lle —Peter Ackroyd

"Extraordinary masterpieces of the twentieth century." —John Banville