When Generations Collide: Who They Are. Why They Clash. How to Solve the Generational Puzzle at Work (Paperback)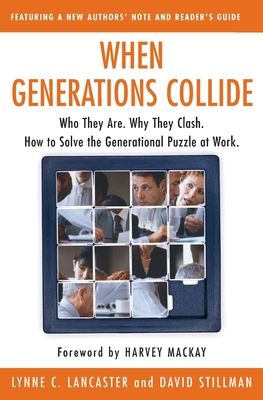 $16.99

NOT on our shelves now. Usually ships from warehouse in several days.
Description
---
If your workplace feels like a battle zone and colleagues sometimes act like adversaries, you ore not alone. Today four generations glare at one another across the conference table, and the potential for conflict and confusion has never been greater.
Traditionalist employees with their "heads down, onward and upward" attitude live out a work ethic shaped during the Great Depression.
Eighty million Baby Boomers vacillate between their overwhelming need to succeed and their growing desire to slow down and enjoy life.
Generation Xers try to prove themselves constantly yet dislike the image of being overly ambitious, disrespectful, and irreverent.
Millennials, new to the workforce, mix savvy with social conscience and promise to further change the business landscape.
This insightful book provides hands-on methods to close the generation gaps. With effective tools to recruit, retain, motivate, and manage each generation, you can now create teamwork, not war, in today's highperformance workplace . . . where at any age, productivity is what counts.
About the Author
---
Lynne C. Lancaster and David Stillman are nationally recognized public speakers, generational experts, and cultural translators as well as coauthors of When Generations Collide. They are cofounders of BridgeWorks, a highly successful twelve-year-old research, speaking, and training company focused exclusively on the generations at work. Their clients include high-profile companies such as 3M, American Express, Best Buy, Coca-Cola, Deloitte, Disney, Ford Motor Company, General Mills, and Procter & Gamble, as well as stellar organizations such as AARP, the American Bankers Association, the Conference Board, the Internal Revenue Service, the National Security Agency, and the United Way. Lancaster lives in Sonoma, California, and Stillman lives in Minneapolis, Minnesota.
David Stillman is the co-author of best-selling books When Generations Collide and The M-Factor: How the Millennials are Rocking the Workplace. He has contributed to Time, The Washington Post, the New York Times, and USA Today and has been featured as a generational expert on CNN, CNBC, and the "Today Show". Stillman has been named one of the "Forty Under 40" movers and shakers and one of 200 to Watch by The Business Journal.
Praise For…
---
"Lancaster and Stillman use real work situations, and more than a bit of wry humor, to ... make a good case." — Minneapolis Star Tribune
"Rich, engrossing...instructive and profound...This stimulating, valuable ... business book... resonates on a sociological level." — Boston Globe
"Lancaster and Stillman use real work situations, and more than a bit of wry humor, to ... make a good case." — Minneapolis Star Tribune
"The authors offer many examples of trouble spots where generational conflicts are most likely to explode...thought-provoking insights." — Time
"The two experts in managing age-related conflicts boil complex issues down to their essences." — Entrepreneur