From Cover to Cover: Evaluating and Reviewing Children's Book (Paperback)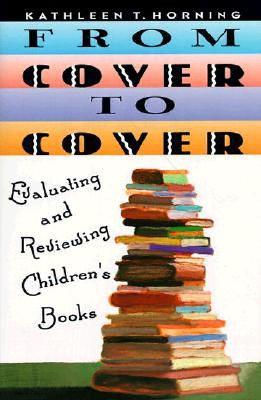 $16.49
Temporarily Unavailable
Description
---
From Cover To Cover

is a fresh, up-to-date look at some of the best examples of children's literature today, and also includes practical advice on how to write clearly articulated, reasoned opinions so that others can learn about books they have not yet read.
It includes:
a short explanation of the process of making a children's book from manuscript to final bound book
a description of the importance of the many different parts of a book (jacket flaps, title page, copyright, Cataloging-in-Publication information, etc.)
six thought-provoking chapters that explain how ot think about and critically evaluate several different genres of children's books:

books of information
traditional literature (myths, legends, tall tales, folktales)
poetry, verse, rhymes, and songs
picture books
easy readers and transitional books
fiction

a concluding chapter on how to write reviews that are both descriptive and analytical
From Cover To Cover is an invaluable resource for all professionals who wish to write book evaluations that go beyond a simple personal response.
This definitive guide to reviewing children's books makes it effortless for parents, teachers, librarians, children's literature students and general readers who are interested in becoming children's book reviewers to assess the strengths and weaknesses of a children's book. An authoritative reviewer in her own right, Kathleen Horning provides practical guidelines for reading critically, evaluating an initial response, answering questions raised during the first reading, putting a response into words, balancing description with criticism, and writing reviews for a particular audience.
About the Author
---
Kathleen T. Horning is the director of the Cooperative Children's Book Center of the School of Education at the University of Wisconsin-Madison. She was also a children's librarian at Madison Public Library for nine years.
Ms. Horning was the president of the Association for Library Service to Children of the American Library Association in 2007, as well as president of the United States Board on Books for Young People in 2003. She has chaired or served on a variety of children's book award committees, including the Américas Award, the Charlotte Zolotow Award, the John Newbery, USBBY's Hans Christian Andersen Award, the Coretta Scott King Award, the Mildred L. Batchelder Award, the ALA/ALSC's Notable Children's Books, and the NCTE Lee Bennett Hopkins Award committees, and she was selected to deliver the 2010 May Hill Arbuthnot Honor Lecture.
She is the coauthor with Ginny Moore Kruse of Multicultural Literature for Children and Young Adults and of CCBC Choices, an annual publication reviewing the best books for children and young adults. She has a BA in linguistics and a master's degree in library and information studies, both from the University of Wisconsin-Madison.