Knocking Myself Up: A Memoir of My (In)Fertility (Hardcover)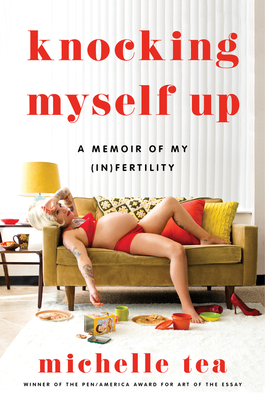 $28.99

NOT on our shelves now. Usually ships from warehouse in several days.
Description
---
From PEN/America Award winner, 2021 Guggenheim fellow, and beloved literary and tarot icon Michelle Tea, the hilarious, powerfully written, taboo-breaking story of her journey to pregnancy and motherhood as a 40 year-old, queer, uninsured woman
Written in intimate, gleefully TMI prose, Knocking Myself Up is the irreverent account of Tea's route to parenthood—with a group of ride-or-die friends, a generous drag queen, and a whole lot of can-do pluck. Along the way she falls in love with a wholesome genderqueer a decade her junior, attempts biohacking herself a baby with black market fertility meds (and magicking herself an offspring with witch-enchanted honey), learns her eggs are busted, and enters the Fertility Industrial Complex in order to carry her younger lover's baby.
With the signature sharp wit and wild heart that have made her a favorite to so many readers, Tea guides us through the maze of medical procedures, frustrations and astonishments on the path to getting pregnant, wryly critiquing some of the systems that facilitate that choice ("a great, punk, daredevil thing to do"). In Knocking Myself Up, Tea has crafted a deeply entertaining and profound memoir, a testament to the power of love and family-making, however complex our lives may be, to transform and enrich us.
About the Author
---
Michelle Tea is the author of over a dozen books, including the cult-classic Valencia, the essay collection Against Memoir, and the speculative memoir Black Wave. She is the recipient of awards from the Guggenheim, Lambda Literary, and Rona Jaffe Foundations, PEN/America, and other institutions. Knocking Myself Up is her latest memoir.
Tea's cultural interventions include brainstorming the international phenomenon Drag Queen Story Hour, co-creating the Sister Spit queer literary performance tours, and occupying the role of Founding Director at RADAR Productions, a Bay Area literary organization, for over a decade. She also helmed the imprints Sister Spit Books at City Lights Publishers, and Amethyst Editions at The Feminist Press. She produces and hosts the Your Magic podcast, wherein which she reads tarot cards for Roxane Gay, Alexander Chee, Phoebe Bridgers and other artists, as well as the live tarot show Ask the Tarot on Spotify Greenroom.
Praise For…
---
"With humor, candor and the ease of a veteran storyteller, Tea reminds us that there is no making life in pursuit of a prefigured plan. We learn from what we least expect, propelled toward "the outer reaches of love, where it hits the limits of our understanding." — New York Times Book Review
"Whether Tea is writing nonfiction—including her PEN Award-winning 2018 essay collection "Against Memoir"—or cult-favorite fiction, her work is her own, ringing in her unmistakable voice: wry, witty, authentic, down-to-earth but also way-up-in-the-clouds. Above all, it's the self-deprecating, self-aware and ultimately self-loving honesty that distinguishes Tea's way of life and her irresistible, evocative and wise way of writing about it." — Meredith Maran, Washington Post
"Tea's account showcases the fluidity of contemporary identity and family bonds, but also of time and narrative. This overlapping of new romance and pregnancy, miscarriage and marriage, of triumph and vulnerability, of birth and death—and, we could add, of private joy amidst political despair—is a different kind of adventure. It's not so much that one can move instantly from delight to despair, but that we experience both together, all the time." — New Republic
"Author, poet, tarot legend, and organizer Michelle Tea has long been known as a fairy godmother of the millennial queer set, and in this blazing new memoir, she approaches the subject of parenthood (and all the poking, prodding, jaw-dropping expense, and nosy questions that it can entail for LGBTQ+ parents) with her signature verve." — Vogue
"Crack this marvel open in which Michelle Tea details "having" a baby in a way that's part science experiment, part space voyage and maybe largest part prayer. She delivers her tale with enormous vulnerability, fierce honesty, and an unflagging commitment to the gnarly, frothy, performative condition(s) of giving birth and in the end she drops us all into an ecstatic basinet of total love. My God! Michelle is the best. Man can she live and write." — Eileen Myles, poet and author of Chelsea Girls
"Encouraging and subtly radical"  — Vogue
"Winning, companionable, and intimate; [Tea] has a talent for letting you know her…The central question becomes: How do you have a baby and not lose yourself?"  — The Nation
"Tea's journey to motherhood involved tarot cards, astrology, and witches; a loving queer community; a caring partner; and medical practitioners sympathetic to a queer woman's desire for a baby. Though many anecdotes are amusing, she reveals the emotional and physical cost of the "baby-making/baby-failing roller coaster" that completely dominated her life...A refreshingly entertaining, lighthearted memoir about a serious topic." — Kirkus Reviews
"Taken as a whole, Tea's unconventional "birth story" serves as a celebration of the human body, its hidden miracles, and, as she aptly puts it, "not just the dramatic climax of a last push and a first breath, but the story of a choice made, a dare accepted, a journey undertaken." This heartfelt work embraces every facet of the human experience: heartache, hope, and—with a little luck—joy." — Publishers Weekly
"Tea takes readers on a whirlwind ride of a complicated conception and pregnancy. [Her] experience is a uniquely queer and feminist one that is rarely at the forefront of these discussions. For readers learning about the more technical (and sometimes grisly) side effects of fertility treatments and pregnancy for the first time, Tea's exuberance and zest for the experience will hopefully offer solace."  — Library Journal
"'Motherhood is psychedelic,' Michelle Tea writes in Knocking Myself Up, a book that gifts us a blow-by-blow of Tea's journey in ecstatic, riotous, mind-altering colors. Watch out, though - the gossipy immediacy and hilarity of Tea's voice may leave you unprepared for the "love as big as planets" that grows along the way, and eventually packs a real wallop. I'm so grateful for this necessary book, which makes me feel emboldened, buoyant, and less alone." — Maggie Nelson, award-winning author of The Argonauts
"Michelle Tea has pulled off the impossible—a frank, funny, compelling memoir about birth and parenthood that pulls no punches but still manages to make the whole affair sound like a grand adventure. She brings her trademark compassionate curiosity to the vast universe that is creation." — Kaitlyn Greenidge, author of Libertie and We Love You, Charlie Freeman
"Michelle Tea's Knocking Myself Up takes the most quintessential human process— procreation—and completely reinvents what's possible. Her trademark honesty and punk rock spirit are on full display here in her most indelible and unexpected book yet. People of all walks of life will find something to take away with them as we—as society—all grapple with what parenthood can and should really be."  — Isaac Fitzgerald, author of Dirtbag, Massachusetts
"Every book by Michelle Tea is a revelation. This book is a big fat reminder that the mess of life and the mess of making life are one and the same, with joy and goop and frustration and loss and blood and sudden! giddy! triumph!" — Daniel Handler, author of All The Dirty Parts