Illustrated Black History: Honoring the Iconic and the Unseen (Hardcover)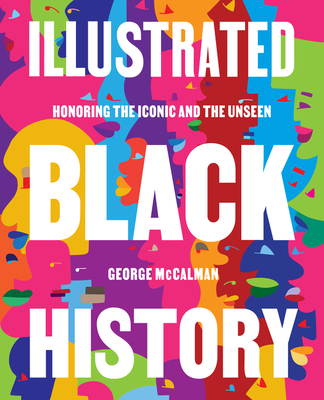 $35.99

Coming Soon. Pre-Order Now!
Description
---
From an award-winning graphic designer and artist comes this distinctive collection that celebrates Black Americans and their contributions—many little known—to politics, science, literature, music, and other fields, brought to life by soulful portraits.
Illustrated Black History is an exuberant and essential chronicle that spans many decades and fields, from activism, business, and medicine to technology, food, and entertainment. Honoring the legacy of more than 150 extraordinary Black men and women--many of whom are "hidden figures" whose invaluable contributions to American culture often went ignored or undervalued. Each entry includes an insightful essay highlighting their impact alongside evocative original portraits painted and rendered by George McCalman..

In addition to towering figures, including Nina Simone, Frederick Douglass, Ben Carson, Colin Kaepernick, James Baldwin, Octavia Butler, bell hooks, and Audre Lorde, Illustrated Black History honors heroes such as:
Documentarian Madeline Anderson, who produced I Am Somebody, a film about the 1969 strike of mostly women hospital workers
James and Eloyce Gist, whose traveling ministry crisscrossed America in the early 1900s 
Renaissance man, Paul Robeson
Dr. Eliza Ann Grier, who was born into slavery and became the first black woman to practice medicine in America
Guion S. Bluford, the first black person to travel into space
Claudette Colvin, the civil rights activist who refused to give up her seat on a bus nine months before Rosa Parks
And many more
The depth and breadth of Black genius has always been integral, but has so often been excised from the official American narrative. With recent successes like Hidden Figures and the New York Times Magazine's Pulitzer Prize-winning 1619 Project, this reading of history is beginning to receive its placement. Accessible and eye-opening, this artful treatment is a long-overdue homage to the contributions of African Americans and a powerful celebration of the Black experience that is sure to become a keepsake for generations.
About the Author
---
George McCalman is an artist, graphic designer, and creative director based in San Francisco. His studio, McCalman.co creates long-lasting brands for clients across arts, lifestyle, food, and mobile media. He is a senior lecturer in graphic design at California College of Art and is the author and illustrator for the San Francisco Chronicle's monthly "Observed" and "First Person' column. 
Osayi Endolyn is a James Beard Award–winning writer with work in the Washington Post, the Los Angeles Times, Eater, Food & Wine, Time, Condé Nast Traveler, and the Oxford American. She appears in Chef's Table and Ugly Delicious, and has been featured on NPR's 1A and the Sporkful. She is co-author of The Rise: Black Cooks and the Soul of American Food. She lives in New York.