The Girl from the Garden: A Novel (Hardcover)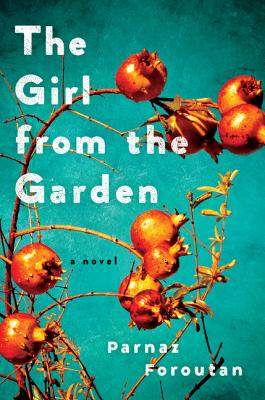 $29.69
Temporarily Unavailable
September 2015 Indie Next List
---
"In her accomplished, arresting debut, Foroutan tells a story almost biblical in its basics. People in a mixed, but very religious, clan-determined society in Iran have their lives and roles set out in firmly dictated ways. Conflict ensues when what is prescribed doesn't happen as it should and when basic human longings for autonomy and a sense of self start to emerge. Foroutan writes of a family's unraveling in a powerful story that will vividly live on in the reader's memory and imagination. Brilliant!"
— Rick Simonson, The Elliott Bay Book Company, Seattle, WA
Description
---
An extraordinary new writer makes her literary debut with this suspenseful novel of desire, obsession, power and vulnerability, in which a crisis of inheritance leads to the downfall of a wealthy family of Persian Jews in early twentieth-century Iran.
For all his wealth and success, Asher Malacouti—the head of a prosperous Jewish family living in the Iranian town of Kermanshah—cannot have the one thing he desires above all: a male son. His young wife Rakhel, trapped in an oppressive marriage at a time when a woman's worth is measured by her fertility, is made desperate by her failure to conceive, and grows jealous and vindictive.
Her despair is compounded by her sister-in-law Khorsheed's pregnancy and her husband's growing desire for Kokab, his cousin's wife. Frustrated by his wife's inability to bear him an heir, Asher makes a fateful choice that will shatter the household and drive Rakhel to dark extremes to save herself and preserve her status within the family.
Witnessed through the memories of the family's only surviving daughter, Mahboubeh, now an elderly woman living in Los Angeles, The Girl from the Garden unfolds the complex, tragic history of her family in a long-lost Iran of generations past. Haunting, suspenseful and inspired by events in the author's own family, it is an evocative and poignant exploration of sacrifice, betrayal, and the indelible legacy of the families that forge us.
About the Author
---
Parnaz Foroutan is the author of Home is a Stranger and The Girl from the Garden. She was born in Iran and spent her early childhood there. She received PEN USA's Emerging Voices fellowship for this novel, which was inspired by her own family history. She has been named to the Hedgebrook fellowship and residency, and received funding from the Elizabeth George Foundation, among other institutions. She currently lives in Los Angeles with her husband and two daughters.
Praise For…
---
"A lush debut... Foroutan is a modern-day Scheherazade, weaving her tale through the entire 20th century, from an aging woman in her L.A. garden to the brothers whose determination to spawn heirs tortured the harem she was raised in." — Willamette Week
"A powerful and moving novel about the devastating choices women face when their worth is tied to their wombs but not themselves. Parnaz Foroutan takes the timeless themes of love, honor, sacrifice and betrayal and makes them new." — Gloria Steinem
"The Girl from the Garden is a spectacular novel-a riveting, finely wrought portrait of loss, longing, and passion in the intimate lives of an extended family in Iran. Foroutan is a writer of astounding talent, and her tale is moving and unforgettable." — Carolina De Robertis, author of The Invisible Mountain
Set against the tumultuous backdrop of early 20th century Iran, The Girl from the Garden is an evocative tale of loss, betrayal and family ties. Parnaz Foroutan is a stunning new literary talent, and her debut novel is a gift to readers everywhere. — Amy Greene, author of Bloodroot
In her debut novel, Parnaz Foroutan has written an incantatory tale of love, sacrifice and an unquenchable yearning for paradise. Foroutan unfurls a sensuous, poetic tapestry of gardens and seasons, of women enshrouded and silenced by culture, of men made intractable by honor, religious tradition and filial loyalty. — Melissa Pritchard, author of PalmerinoandA Solemn Pleasure
"Some novels open the door to historical worlds you've never seen before, worlds that contain unforgivable cruelty and spectacular grace. Parnaz Foroutan's The Girl from the Garden is just such a novel, a powerful story about the contorted lives of women in an ancient patriarchy, radiantly told." — Robert Eversz, author of Zero to the Bone
"In this stunning first novel, Foroutan draws on her own family history to integrate the lore and traditions of old Iran. Suspenseful and haunting, this riveting story of jealousy, sacrifice, and betrayal and the intimately drawn characters within will not be easily forgotten." — Booklist (starred review)
"Foroutan's lyrical debut offers a mosaic of stories…Deftly structured, this novel traces those complications to their core, exposing the pain, oppressive forces, and difficult allegiances within and without the estate, while lending grace through the delicacy of its observation." — Kirkus Reviews (starred review)
"Foroutan's characters grapple, often vainly, for control against larger forces--a God who doesn't answer prayers, a state that doesn't recognize their humanity, and people who cannot be made to bend to their needs, no matter how badly they love them." — St. Louis Post-Dispatch
"Drawing on her own family history, in The Girl from the Garden debut novelist Parnaz Foroutan offers an evocative portrait of Iranian Jewish culture, and the experience of being a woman who felt that both her family, and her body--which dictated her worth--had betrayed her." — Bustle.com, 16 Of August 2015's Best Books You'll Love
"Parnaz Foroutan's scorching debut novel, The Girl From the Garden, takes us to Iran, where a couple's inability to conceive pits a young wife against her tyrannical husband, who will stop at nothing to secure an heir." — W Magazine (online), 3 Books to Add to Your Summer Reading List
"2015 is proving to be a year filled with awesome debut novels, and the buzz around this book leads me to believe it's one of them!" — BookRiot
"Filled with lingering sorrow, broken hearts and cold revenge, this walk down a sometimes-darkened memory lane is not for those seeking a light-hearted read, but fans of well-paced dramas will find much to adore." — Shelf Awareness
"A riveting portrait of family strife in a troubled land--and the fallout when a woman's fertility determines her worth." — People
"[U]ltimately, The Girl from the Garden is about how telling stories helps us to hold our past in our hands-and about how a flowering yard 'teeming with life' in far-off Los Angeles can movingly become, for one wandering storyteller, a home." — Seattle Times
"We never learn Mahboubeh's own story, but the sense of a personality forged by the sacrifice, betrayal and restrictions of the women who came before her will remain with the reader long after the book is over." — BookPage
"[R]emarkable not only for its rare, intimate glimpse of an Iranian Jewish family in the early 20th century, nor for its gorgeous sentences or profound treatment of longing, loss and memory, but for how it seduces and enthralls the reader." — San Francisco Chronicle, Carolina de Robertis