The Harder They Come: A Novel (Hardcover)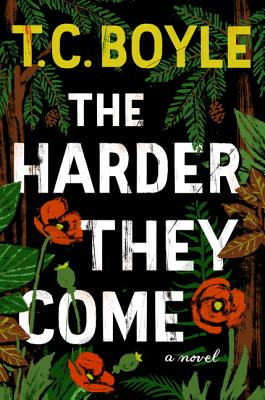 $30.79
Temporarily Unavailable
April 2015 Indie Next List
---
"If you were up all night reading Lionel Shriver's We Need to Talk About Kevin, take a nap before starting T.C. Boyle's new book, The Harder They Come. The novel addresses two difficult and timely topics: gun violence and society's treatment of the mentally ill. Parents Sten and Carolee Stenson are faced with balancing their love for their unstable adult son, Adam, and the safety of others as his behavior becomes increasingly erratic and threatening. Boyle is a masterful storyteller and this is his best book yet."
— Mamie Potter (M), Quail Ridge Books, Raleigh, NC
Description
---
Acclaimed New York Times bestselling author T.C. Boyle makes his Ecco debut with a powerful, gripping novel that explores the roots of violence and anti-authoritarianism inherent in the American character.
Set in contemporary Northern California, The Harder They Come explores the volatile connections between three damaged people—an aging ex-Marine and Vietnam veteran, his psychologically unstable son, and the son's paranoid, much older lover—as they careen towards an explosive confrontation.
On a vacation cruise to Central America with his wife, seventy-year-old Sten Stensen unflinchingly kills a gun-wielding robber menacing a busload of senior tourists. The reluctant hero is relieved to return home to Fort Bragg, California, after the ordeal—only to find that his delusional son, Adam, has spiraled out of control.
Adam has become involved with Sara Hovarty Jennings, a hardened member of the Sovereign Citizens' Movement, right-wing anarchists who refuse to acknowledge the laws and regulations of the state, considering them to be false and non-applicable. Adam's senior by some fifteen years, Sara becomes his protector and inamorata. As Adam's mental state fractures, he becomes increasingly schizophrenic—a breakdown that leads him to shoot two people in separate instances. On the run, he takes to the woods, spurring the biggest manhunt in California history.
As he explores a father's legacy of violence and his powerlessness in relating to his equally violent son, T. C. Boyle offers unparalleled psychological insights into the American psyche. Inspired by a true story, The Harder They Come is a devastating and indelible novel from a modern master.
About the Author
---
T.C. Boyle has published fourteen novels and ten collections of short stories. He won the PEN/Faulkner award in 1988 for his novel World's End, and the Prix Médicis étranger for The Tortilla Curtain in 1995, as well as the 2014 Henry David Thoreau award for excellence in nature writing. He is a Distinguished Professor of English at the University of Southern California and lives in Santa Barbara.
Praise For…
---
"The Harder They Come has no solutions to the delusions and dysfunctions it portrays. But it taps memorably into something deeply skewed in the American psyche."
— The Oregonian (Portland)

"[T]hrilling… Boyle can paint a scene in vibrant colors…. [with] characters, who, to his credit, occupy a dark space between psychosis and Americana..."
— Entertainment Weekly

"...A full-throated Harley Davidson of a novel... using some of fiction's least fashionable attributes, social realism, pointed action...to brilliantly dissect America's love affair with violence…[Boyle's] prose manages to be both vivid and sharp, patient and pressing.. Boyle's writing never loses energy or descriptive power."
— Los Angeles Times

"The latest from a prolific and acclaimed novelist, The Harder They Come is a family saga that maps the relationships between the three people at its heart, as their potent mix of violence and paranoia urges them toward tragedy."
— Huffington Post

"...Boyle tellingly explores the anger, paranoia, and violence lurking in the shadowlands of the American psyche. A powerful and profoundly unsettling tale."
— Library Journal (starred review)

"This new work of fiction from Boyle presents a fractured threesome: a 70-year-old ex-Marine, his troubled son and the son's older girlfriend-a right-wing anarchist. A dark novel, The Harder They Come explores violence and the American psyche."
— Houston Chronicle

"T.C. Boyle again explores his favorite territory, the American psyche, in , a gripping novel about an aging Vietnam vet and his mentally unstable son, out in April."
— Tampa Bay Times

"When precisely...does T.C. Boyle sleep? In the 35 years since his first book came out, Boyle has published 14 novels and more than 100 stories. The Harder They Come is the usual T.C. Boyle...circus of serious-minded zaniness."
— The Millions

"Boyle's...hypnotic narrative probes the complexities of heroism, violence, power, and resistance...Written with both clarity and compassion, each of the novel's characters inhabits a rich and convincing private world. As they traverse a landscape none of them control, their haunting stories illuminate the violent American battle with otherness."
— Publishers Weekly

"Boyle has long been one of the most exciting and intelligent storytellers in the United States. His upcoming novel describes a mentally ill young man involved with a group of violent anarchists."
— Washington Post

"Written with both clarity and compassion, each of the novel's characters inhabits a rich and convincing private world. As they traverse a landscape none of them control, their haunting stories illuminate the violent American battle with otherness."
— Booklist

"New York Times-best-selling author T.C. Boyle explores the volatile relationships between an aging veteran, his unstable son, and the son's much older lover in The Harder They Come."
— Buzzfeed, 27 Of The Most Exciting New Books of 2015

"A maximalist scribe of gothic melodrama, Boyle takes you on a manhunt through Californian pot groves, grisly Caribbean cruises, and Orwellian animal shelters before landing in horribly familiar territory: a disillusioned psychotic white guy with a gun. Still, plenty of sex, booze, and satire to lighten things up."
— GQ

Fifteen years ago, Boyle told The Paris Review that he was 'writing novels of social engagement...These same concerns appear in The Harder They Come... It is not a cheerful book. The best ones never are."
— Newsweek

"Set in Northern California and rooted in actual events, The Harder They Come is a meditation on violence, specifically in the context of American history and culture. The text examines the connections between three damaged and explosive yet sympathetic people."
— Brooklyn Daily Eagle

"The Harder They Come is the 66-year-old Boyle's 15th novel, displaying his characteristic energy, smart cultural references and talent for physical description. It's the emotional element that takes second place here, though, leaving an unfinished feel to the work."
— Cleveland Plain Dealer

"Boyle is a genius at capturing social microcosms and excavating emotions simmering beneath the surface of contemporary America...A gripping and revelatory tale."
— BBC Between the Lines

"...The pendulum swings back to high-adrenaline zaniness and pertinacious, destructive misfits. Individualism remains central, but unlike San Miguel, it's far from contemplative. It is a juggernaut, twisted to borderline psychotic."
— BookPage

"[S]tunning… It's gripping, funny and melancholy…The Harder They Come is a masterly - and arresting - piece of storytelling, arguably Mr. Boyle's most powerful, kinetic novel yet."
— Michiko Kakutani, New York Times

"[A] searing and masterful account of American violence and disaffection."
— San Francisco Chronicle

"[M]arvelous… thrilling, intense... [T]he story and the characters...are amazing. Early in his career, Boyle could be pointlessly intense... His late style...is something to behold; it has the same verve and pace, but in service now to an adroit realism. "
— USA Today

"Boyle's tart and exuberant powers of description, of people and places, and his cheerful black humor are as exhilarating as ever."
— Minneapolis Star Tribune

"The Harder They Come is the 66-year-old Boyle's 15th novel, and it displays his characteristic energy, smart cultural references and talent for physical description."
— Dallas Morning News

"Boyle always writes well and has never shied away from challenging issues."
— Houston Chronicle

"A gripping read and a powerful commentary on American themes of self-reliance and anti-authoritarianism… eerily prescient."
— The Brooklyn Rail

"In his 15th novel, the author of The Tortilla Curtain and Drop City probes the psyches of three combustible characters... Sparks will fly."
— Newsday

"Like the best of his work, Boyle's no-frills narration makes for a fascinating journey up to the final page."
— Paste Magazine

"T.C. Boyle is a master at exposing the American psyche in his fiction. His new novel The Harder They Come is yet another stunning example, an engaging portrait of family, violence, and anarchy."
— Largehearted Boy