The Mission Chinese Food Cookbook (Hardcover)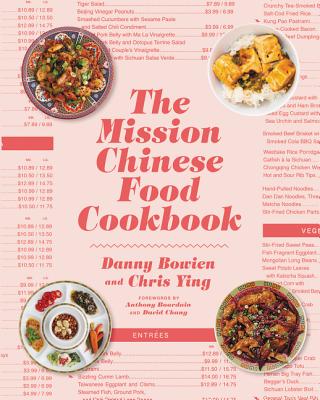 $39.99
Temporarily Unavailable
Description
---
From rising culinary star Danny Bowien, chef and cofounder of the tremendously popular Mission Chinese Food restaurants, comes an exuberant cookbook that tells the story of an unconventional idea born in San Francisco that spread cross-country, propelled by wildly inventive recipes that have changed what it means to cook Chinese food in America

Mission Chinese Food is not exactly a Chinese restaurant. It began its life as a pop-up: a restaurant nested within a divey Americanized Chinese joint in San Francisco's Mission District. From the beginning, a spirit of resourcefulness and radical inventiveness has infused each and every dish at Mission Chinese Food. Now, hungry diners line up outside both the San Francisco and New York City locations, waiting hours for platters of Sizzling Cumin Lamb, Thrice-Cooked Bacon, Fiery Kung Pao Pastrami, and pungent Salt-Cod Fried Rice.
The force behind the phenomenon, chef Danny Bowien is, at only thirty-three, the fastest-rising young chef in the United States. Born in Korea and adopted by parents in Oklahoma, he has a broad spectrum of influences. He's a veteran of fine-dining kitchens, sushi bars, an international pesto competition, and a grocery-store burger stand. In 2013 Food & Wine named him one of the country's Best New Chefs and the James Beard Foundation awarded him its illustrious Rising Star Chef Award. In 2011 Bon Appétit named Mission Chinese Food the second-best new restaurant in America, and in 2012 the New York Times hailed the Lower East Side outpost as the Best New Restaurant in New York City. 
The Mission Chinese Food Cookbook tracks the fascinating, meteoric rise of the restaurant and its chef. Each chapter in the story—from the restaurant's early days, to an ill-fated trip to China, to the opening of the first Mission Chinese in New York—unfolds as a conversation between Danny and his collaborators, and is accompanied by detailed recipes for the addictive dishes that have earned the restaurant global praise. Mission Chinese's legions of fans as well as home cooks of all levels will rethink what it means to cook Chinese food, while getting a look into the background and insights of one of the most creative young chefs today.
About the Author
---
Danny Bowien is the cofounder of Mission Chinese Food in San Francisco and New York. He won the 2008 Pesto World Championship in Genoa, Italy, the James Beard Foundation for Rising Star Chef in 2013, and the main subject of the sixth season of the travel and food show The Mind of a Chef. He was born in Korea, raised in Oklahoma, and lives in New York, where he is the chef at Mission in Bushwick, Brooklyn.
Chris Ying worked as designer, editor, and publisher of McSweeney's before becoming editor in chief of Lucky Peach. He is the coauthor of Ivan Ramen and a founder of the nonprofit organization ZeroFoodprint. He lives in San Francisco with his wife, Jami.
Praise For…
---
"Bowien dares to go far beyond the recipes to reveal his own mind and spirit -- the mercurial and creative force behind it all -- making for an immersive and personal read… His candid writing serves as inspiration for peers and a true page-turner for his many fans." — Eater
"In his new cookbook, [Bowien] again defies expectation." — Tasting Table
"The young culinary star chronicles his unconventional rise in a "cookbook in conversations" that combines raucous storytelling with his addictive - and often surprisingly simple - recipes." — Food Republic
"To hear Bowien in his own words is a treat, and his debut cookbook is not to be missed. Like Gabrielle Hamilton's Prune, this will thrill foodies and aspiring chefs." — Library Journal
"One of the most affecting books I've read all year…. When the odd recipe pops up, it feels like a lifeline, or a turning point." — New Yorker
"…the conversational tête-à-tête with Lucky Peach editor Chris Ying, and down-to-earth candor, makes this book an enjoyable read for fans of Asian fusion cuisines." — Shelf Awareness
"The creators of the San Francisco and New York hot spots don't just share their recipes, they reminisce about their early days as well." — Entertainment Weekly
"Throwing caution (and tradition) to the wind, [Bowien] combines scrupulous, exact culinary skills with an intuitive common sense about what will taste good and be nourishing without boring the palate. What results is a menu full of rule-breaking surprises" — Men's Journal
"What makes The Mission Chinese Food Cookbook compulsively readable is Bowien's voice: fiercely honest, self-critical, incredibly sympathetic. Although ostensibly a recipe book, this is as engaging and readable a memoir as Kitchen Confidential…" — The Atlantic
"Danny Bowien is one of the most innovative chefs-and arguably the ballsiest-in the country, taking the culinary world by storm with Mission Chinese Food. His new book...makes home cooks of all levels rethink what it means to cook Chinese food." — AndrewZimmerman.com
Coverage from NPR