A Girl and Her Greens: Hearty Meals from the Garden (Hardcover)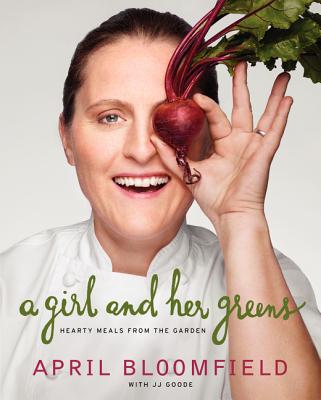 $38.49
Temporarily Unavailable
Description
---
From the chef, restaurant owner, and author of the critically lauded A Girl and Her Pig comes a beautiful, full-color cookbook that offers tantalizing seasonal recipes for a wide variety of vegetables, from summer standbys such as zucchini to earthy novelties like sunchokes.
A Girl and Her Greens reflects the lighter side of the renowned chef whose name is nearly synonymous with nose-to-tail eating. In recipes such as Pot-Roasted Romanesco Broccoli, Onions with Sage Pesto, and Carrots with Spices, Yogurt, and Orange Blossom Water, April Bloomfield demonstrates the basic principle of her method: that unforgettable food comes out of simple, honest ingredients, an attention to detail, and a love for the sensual pleasures of cooking and eating.
Written in her appealing, down-to-earth style, A Girl and Her Greens features beautiful color photography, lively illustrations, and insightful sidebars and tips on her techniques, as well as charming narratives that reveal her sources of inspiration.
About the Author
---
April Bloomfield is the executive chef and co-owner of the Michelin- starred The Spotted Pig, The Breslin, The John Dory, Tosca, and Salvation Taco restaurants. She won the 2014 James Beard Award for Best Chef in New York and was nominated for an Emmy for cohosting the second season of the PBS show Mind of a Chef. A native of Birmingham, England, she lives in New York City.
JJ Goode, co-writer, has co-authored several New York Times bestselling cookbooks and has won a James Beard Award. The editors of The Norton Reader selected his Gourmet magazine essay on cooking with one arm for their anthology of nonfiction, which includes writing from Nora Ephron, Barack Obama, and Jesus. 
Praise For…
---
"April, April, April what a chef! Delicious, brilliant, inspiring... With her book, A Girl and Her Pig, you can now sample her splendid food in your own kitchen." — Fergus Henderson on A Girl and Her Pig
"In a sneak peek at her new cookbook, A Girl and Her Greens, Bloomfield offers her crazy-good recipe for pan-roasted carrots with carrot-top pesto, shaved carrot salad, and creamy burrata." — Saveur 100 Cooks' Edition
"What makes Ms. Bloomfield's simple food so satisfying-both at her restaurants like the Breslin and the Spotted Pig, and in her previous book, A Girl and Her Pig-are its pinpoint-perfect textures, flavors and seasonings." — New York Times
"…I can't imagine anyone being able to write about vegetables the way [Bloomfield] does without truly loving them… [M]y only frustration with Bloomfield's book so far has been that the options are so tempting, it's hard to know where to begin." — Washington Post
"April Bloomfield...brings her irresistible, amped-up attitude to A Girl and Her Greens: Hearty Meals from the Garden. Bloomfield finds the same delight in fresh peas as she does in a juicy steak…her recipes all have chatty, supportive and meticulous instructions." — BookPage
"Known for her whole-animal approach, chef April Bloomfield compares her love for lamb shoulders and suckling pigs to action films. 'You probably don't want them all the time,' she writes. What we do want is more of her kale polenta." — Cooking Light
"Famous for her meaty dishes..., April Bloomfield is ready to show off her vegetable side... A Girl includes recipes for crushed spring peas with mint, whole pot-roasted cauliflower with tomatoes and anchovies and a butternut squash coconut tart." — New York Daily News
"New York City chef April Bloomfield follows up her 2012 debut A Girl and Her Pig with this treatise on vegetables... Greens is arranged seasonally and focuses on the lighter side of Bloomfield's cooking." — Epicurious
"My favorite thing about the recipes I tried, from the crushed spring peas with mint to the fingerling potatoes in butter, was the small details, carefully explained in Bloomfield's instructions, that pushed the simplest dish upward from good to great." — Bloomberg Business
"The chef, restaurant owner, and author of the critically lauded A Girl and Her Pig presents a beautiful, full-color cookbook that offers tantalizing seasonal recipes for a wide variety of vegetables, from summer standbys such as zucchini to earthy novelties like sunchokes." — Publishers Weekly