Bottom of the 33rd: Hope, Redemption, and Baseball's Longest Game (Paperback)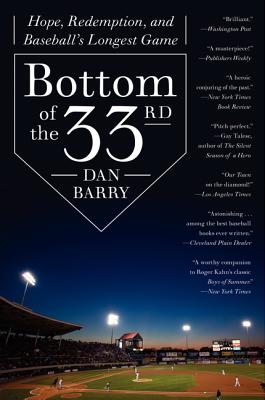 $14.99
ON HAND in at least ONE of our stores. Click through or call for up-to-the-minute availability.
Description
---
"Bottom of the 33rd is chaw-chewing, sunflower-spitting, pine tar proof that too much baseball is never enough." —Jane Leavy, author of The Last Boy and Sandy Koufax 
"What a book—an exquisite exercise in story-telling, democracy and myth-making." —Colum McCann, winner of the National Book Award for  Let The Great World Spin 
From Pulitzer Prize-winning New York Times columnist Dan Barry comes the beautifully recounted story of the longest game in baseball history—a tale celebrating not only the robust intensity of baseball, but the aspirational ideal epitomized by the hard-fighting players of the minor leagues. In the tradition of Moneyball, The Last Hero, and Wicked Good Year, Barry's Bottom of the 33rd is a reaffirming story of the American Dream finding its greatest expression in timeless contests of the Great American Pastime.
About the Author
---
Dan Barry is a reporter and columnist for the New York Times. In 1994 he was part of an investigative team at the Providence Journal that won the Pulitzer Prize for a series of articles on Rhode Island's justice system. He is the author of a memoir, a collection of his About New York columns, and Bottom of the 33rd, for which he won the 2012 PEN/ESPN Award for Literary Sports Writing. He lives with his wife and two daughters in Maplewood, New Jersey.
Praise For…
---
Winner of the 2012 PEN/ESPN Award for Literary Sportswriting
—

Dan Barry has crafted a loving and lyrical tribute to a time and a place when you stayed until the final out...because that's what we did in America. Bottom of the 33rd is chaw-chewing, sunflower-spitting, pine tar proof that too much baseball is never enough.
— –Jane Leavy

"What a book -- an exquisite exercise in story-telling, democracy and myth-making that has, at its center, a great respect for the symphony of voices that make up America."
— –Colum McCann

"Dan's Barry's meticulous reporting and literary talent are both evident in Bottom of the 33rd, a pitch-perfect and seamless meditation on baseball and the human condition."
— –Gay Talese

"A fascinating, beautifully told story... In the hands of Barry, a national correspondent for the New York Times, this marathon of duty, loyalty, misery and folly becomes a riveting narrative...The book feels like 'Our Town' on the diamond."
— –Los Angeles Times

"An astonishing tale that lyrically articulates baseball's inexorable grip on its players and fans, Bottom of the 33rd belongs among the best baseball books ever written."
— –Cleveland Plain Dealer

"Meticulously researched and tremendously entertaining!"
— –Columbus Dispatch

"[Dan] Barry does more than simply recount the inning-by-inning-by-inning box score. He delves beneath the surface, like an archaeologist piecing together the shards and fragments of a forgotten society, to reconstruct a time and a night that have become part of baseball lore."
— –Associated Press

"Whether you're a baseball aficionado or a reader who just enjoys a good yarn, you'll love this book."
— –Minneapolis Star Tribune

"A worthy companion to Roger Kahn's classic Boys of Summer ...[Dan Barry] exploits the power of memory and nostalgia with literary grace and journalistic exactitude. He blends a vivid, moment-by-moment re-creation of the game with what happens to its participants in the next 30 years."
— –Stefan Fatsis, New York Times

"Brilliantly rendered...The book is both a fount of luxurious writing and a tour-de-force of reportage."
— –Washington Post

"[An] heroic conjuring of the past."
— –New York Times Book Review

"[A] masterpiece...destined for the Hall of Fame of baseball books."
— –Publisher's Weekly