The Country Between Us (Paperback)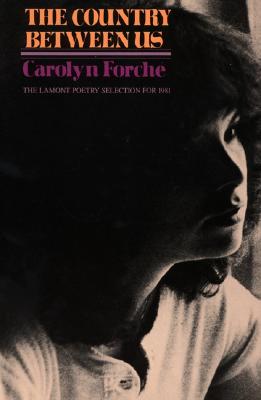 $12.99
NOT on our shelves now. Usually ships from warehouse in several days.
Description
---
"Here is poetry of courage and passion, which manages to be tender and achingly sensual and what is often called 'political' at the same time. This is a major new voice." — Margaret Atwood
The Country Between Us opens with a series of poems about El Salvador, where Carolyn Forché worked as a journalist and was closely involved with the political struggle in that tortured country in the late 1970's. Forché's other poems also tend to be personal, immediate, and moving. Perhaps the final effect of her poetry is the image of a sensitive, brave, and engaged young woman who has made her life a journey. She has already traveled to many places, as these poems indicate, but beyond that is the sense of someone who is, in Ignazio Silone's words, coming from far and going far.
About the Author
---
Carolyn Forché is the author of Gathering the Tribes, winner of the Yale Younger Poets Award; The Country Between Us, which received awards from the Academy of American Poets and the Poetry Society of America; and The Angel of History, awarded the Los Angeles Times Book Award. She is also the editor of the anthology Against Forgetting: Twentieth-Centuly Poetry of Witness. Recently she was presented with the Edita and Ira Morris Hiroshima Foundation Award for Peace and Culture in Stockholm. She lives in Maryland with her husband and son.
Praise For…
---
"Here is poetry of courage and passion, which manages to be tender and achingly sensual and what is often called 'political' at the same time. This is a major new voice."
— Margaret Atwood

"Here is a poet who's doing what I want to see all us poets doing in this time without any close parallels or precedents in history: she is creating poems in which there is no seam between personal and political, lyrical and engaged. And she's doing it magnificently, with intelligence and musicality, with passion and precision."
— Denise Levertov

"Latin America needs a poet to replace the man who represented in his writings the beauty, sufferings, fears and dreams of this continent: Pablo Neruda. Carolyn Forche is that voice."
— Jacobo Timerman

"I do not know another poet writing in English today whose work has the force and drama of Carolyn Forche's. I do not know one whose work is more steadily absorbing."
— Irvin Ehrenpreis

"Forche's subject, El Salvador, is one that could have been easily sentimentalized or sensationalized by a lesser poet. And yet is it spoken of here with honesty and tenderness, even amid its tortures. For these poems are not 'made up' at all, but come from the complexity and mire of human experience."
— Larry Levis