The Real Trial of Oscar Wilde (Paperback)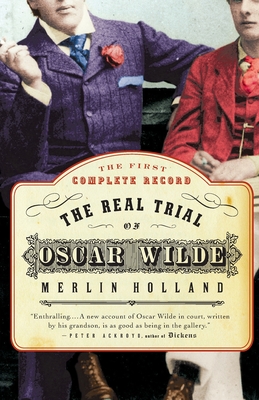 $20.89
NOT on our shelves now. Usually ships from warehouse in several days.
Description
---
Oscar Wilde had one of literary history's mostexplosive love affairs with Lord Alfred "Bosie"Douglas. In 1895, Bosie's father, the Marquessof Queensberry, delivered a note to the Albemarle Clubaddressed to "Oscar Wilde posing as sodomite." WithBosie's encouragement, Wilde sued the Marquess forlibel. He not only lost but he was tried twice for "grossindecency" and sent to prison with two years' hard labor.With this publication of the uncensored trial transcripts,readers can for the first time in more than a century hearWilde at his most articulate and brilliant. The Real Trialof Oscar Wilde documents an alarmingly swift fall fromgrace; it is also a supremely moving testament to the rightto live, work, and love as one's heart dictates.
About the Author
---
Merlin Holland is Oscar Wilde's only grandson. He has been researching Wilde's life for the last twenty years. He is the coeditor of The Complete Letters of Oscar Wilde.
Praise For…
---
"Brilliant."
— Seattle Weekly

"Tantalizing."
— Los Angeles Times

"Inordinately gripping."
— New York Times

"A fascinating document for anyone interested in the law or literature…as compelling as a Shakespearean tragedy."
— Legal Times

"Invaluable for the Wilde enthusiast, the legal scholar, the champion of human rights, and the student of English literature."
— Publishers Weekly

"A gripping and fascinating volume [that]...ranks with the Apology, Plato's account of the trial of Socrates."
— Daily Telegraph (London)

"An essential for aficionados...at times it is easy to forget that this is not one of Wilde's own playscripts."
— The Observer

"This narrative remind[s] us what an extraordinary man his grandfather was—and how much he influenced the 20th century."
— New York Times Book Review on The Wilde Album

"The author has a wry lucid style that moves along briskly...an excellent little book."
— Sunday Boston Globe on The Wilde Album

"Sharp, unillusioned and free from family piety."
— Daily Telegraph (London) on The Wilde Album

"Marvellous … a feast."
— The Independent on The Wilde Album

"Touching … sharp, unsentimental … an expectedly vivid portrait."
— London Times on The Wilde Album