Wednesday, July 30, 2014 - 7:00pm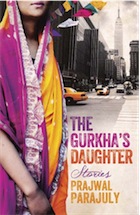 Please join Green Apple Books as we host Prajwal Parajuly on Wednesday, July 30th at 7:00 pm, as he reads from his latest collection of stories The Gurkha's Daughter.
"Powerful . . . a remarkable collection, cohesive, original and vividly rendered."
—Billy O'Callaghan, Irish Examiner
"What gives Parajuly's characters warmth is an energy born of division or dispossession: a desire to be loved, to be better off, or to be elsewhere."
—John Garth, The Guardian
"Eight beautifully written characters in neat stories that riff on displacement, perhaps, but with wit and charm."
—Monocle
A number one bestseller in India and a shortlisted nomination for the Dylan Thomas Prize, The Gurkha's Daughter is a distinctive debut from a rising star in South Asian literature. This collection of stories captures the textures and sounds of the Nepalese diaspora through eight intimate, nuanced portraits, taking us from the hillside city of Darjeeling, India to a tucked away Nepalese restaurant in New York City.
The daily struggles of Parajuly's characters reveal histories of war, colonial occupation, religious division, systemized oppression, and dispossession in the diverse geographical intersection of India, Nepal, Bhutan, Tibet, and China. In a cruel remark by a wealthy doctor to her tenant shopkeeper, we hear the persistent injustice of the caste system; in the contentious relationship between a wealthy widow and her sister-in-law, we glimpse the restricted lives and submissive social roles of Nepalese women; and in a daughter's relationship with her father, we find a dissonance between modernity and tradition that has echoed through the generations in unexpected ways.
Across different ethnicities, religions, and other social distinctions, the characters in these share a universal yearning, not just for survival but for a better life; one with love, dignity, and community. In The Gurkha's Daughter, Parajuly reveals the small acts of bravery—the sustaining, driving hope—that bind together the human experience.
ABOUT THE AUTHOR: Prajwal Parajuly, the son of an Indian father and a Nepalese mother, divides his time between New York and Oxford, England, but disappears to Gangtok, his hometown in the Indian Himalayas, at every opportunity. He draws inspiration for his writing from the many places he has traveled and lived. Parts of The Gurkha's Daughter were written while he was a writer-in-residence at Truman State University, in Kirksville, Missouri. He also worked as an advertising executive at The Village Voice in New York City.
ABOUT THE PUBLISHER: 
QUERCUS PUBLISHING, INC.
 publishes under the imprints Quercus, MacLehose Press, Quercus Children's Books, Jo Fletcher Books, and Heron Books. We publish a range of high quality commercial, literary, and translated fiction; as well as nonfiction, illustrated, science fiction, fantasy, horror, young adult, and juvenile titles. Quercus North America is distributed by Random House. 

$22.99
ISBN: 9781623651459
Availability: On Our Shelves Now
Published: Quercus - July 15th, 2014
Prajwal Parajuly has been hailed as a writer with talents of "considerable strength." ("The Guardian"). Shortlisted for the Dylan Thomas Prize, The "Gurkha's Daughter" is a moving collection of short stories of the Nepali-speaking diaspora in India, Bhutan, Nepal, and Manhattan.
---