Wednesday, June 4, 2014 - 7:00pm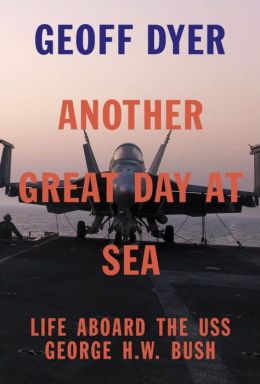 Litquake and Green Apple Books is proud to host the San Francisco launch of Geoff Dyer's new nonfiction book,
Another Great Day at Sea
, at our Epicenter. This event also marks the U.S. release of his first two novels, 
The Colour of Memory
 and 
The Search
. In conversation with journalist Chris Colin, with book sales and signings to follow.
About the book:
From a writer whose books succeed in either subverting or creating genres comes a unique look at an inaccessible world: life on board an American aircraft carrier.
At once deft travelogue, unerring social observation, and honed comedy, this book describes life on a three-dimensional maze of walkways, hatches, and stairs; conversations conducted in a language suffused with acronyms but devoid of grammar; and Geoff Dyer's own earnest efforts to appreciate the men and women aboard who have chosen a way of life the diametric opposite of the one he has constructed for himself. Underlying Dyer's efforts to overcome the disadvantages of being the oldest, tallest (actually, second tallest), and most self-conscious person on the boat is an intense fascination with the military world—one that has its origins in the long hours he spent as a child building and painting airplane models and mastering the intricate details and features of military aircraft. This fascination allows Dyer to appreciate the rigorous protocols defined by the instruments, equipment that requires a thoroughgoing mastery of detail, and the expectations and outlooks of those who must adhere to a regimen defined by service and self-constraint, and a refusal to embrace uncertainty.
Geoff Dyer is the authorof four novels (including Jeff in Venice, Death in Varanasi, a New York Times notable book); a critical study of John Berger; and five highly original nonfiction books including Zona (his most recent), But Beautiful (awarded the Somerset Maugham Prize), and Out of Sheer Rage (an NBCC finalist). His most recent collection of essays, Otherwise Known as the Human Condition, received the National Book Critics Circle Award. His first two novels, The Colour of Memory and The Search, have just been published in the U.S. by Graywolf Press. He lives in London.
Chris Colin
is the author most recently of What to Talk About, as well as What Really Happened to the Class of '93 and Blindsight, named one of Amazon's Best Books of 2011. He's written about chimp filmmakers, ethnic cleansing, George Bush's pool boy, blind visual artists, solitary confinement, the Yelpification of the universe and more for the NewYorker.com, the New York Times Magazine, the Atavist, Outside, Wired, Smithsonian, Mother Jones, McSweeney's and Afar, where he's a contributing writer. He teaches writing at the San Francisco Writers' Grotto and was an early editor at Salon.
www.chriscolin.com
.

Email or call for price
ISBN: 9780307911582
Availability: Not Available to Order. Call or email for used stock availability.
Published: Pantheon Books - May 20th, 2014
From a writer whose genre-jumping refusal to be pinned down makes him] an exemplar of our era (NPR), a new book that confirms his power to astound readers.
---

$17.60
ISBN: 9781555976774
Availability: NOT on our shelves now. Usually ships 1-10 business days from warehouse. ETA will be updated with email order confirmation.
Published: Graywolf Press - May 20th, 2014
The first novel, in revised form, from "possibly the best living writer in Britain" (The Daily Telegraph)

---

$15.00
ISBN: 9781555976781
Availability: On Our Shelves Now. Call store for up-to-the-minute availability.
Published: Graywolf Press - May 20th, 2014
"A short, brilliant novel, The Search offers more in 150 pages than most books twice that length." --The Guardian

---